Exclude competitors from repricing
You can exclude certain competitors from repricing so that you don't adjust to them.
You might want to do this for several reasons, an example would be that some of your competitors are pricing too low and therefore too competitive.


Go to Strategy > Rules and modify your adjustment(s) rule(s).
Select the Seller list behavior



Select between the two behaviors :

- Include : Only the sellers selected will be tracked. All other seller will be excluded.
- Exclude : Only the seller selected will be excluded from being tracked.

Select the competitor you want to exclude
Select the Seller you want to exclude :

Begin to type the name of your competitors and we will suggest you the equivalence we found.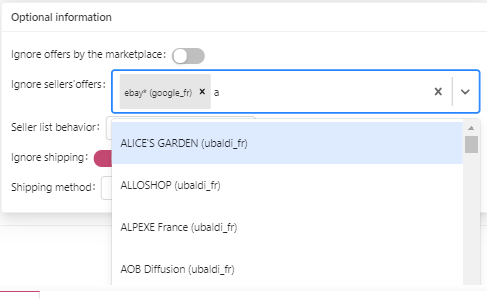 How to effectively select the competitor

Competitor search is case sensitive, you must fill in the exact seller name to be able to exclude the correct seller.

One method to find the exact name of your competitors is to go to the Channels section> Select your channel> Offers> Click on a product> Market tab
Here you will find the exact name of your competitors to exclude. Make a copy and paste so as not to make mistakes.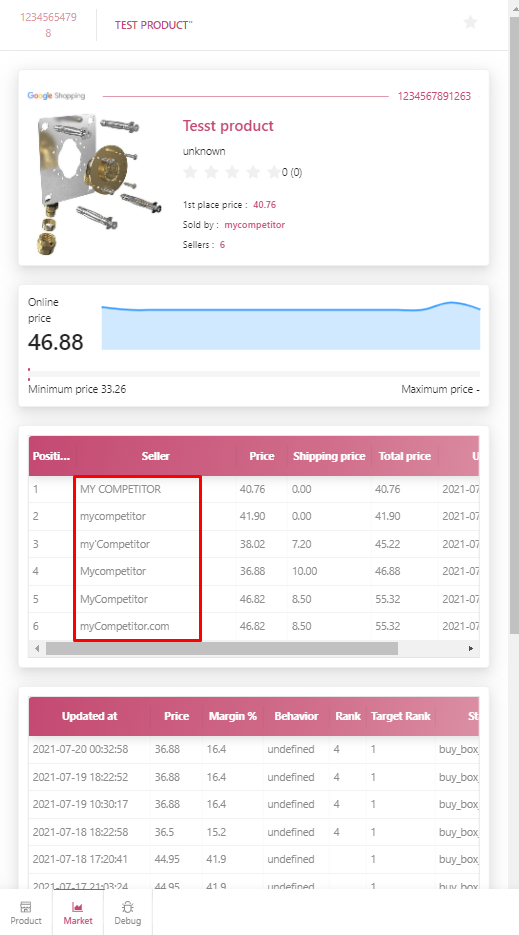 For example :
myCompetitorname is different from mycompetitorname and from Mycompétitor, etc


In this list you will have the vendor name from all the marketplaces, make sure to select the good marketplace.

For example : google_fr is different from google_au
If you do not select the right marketplace the seller will not be excluded.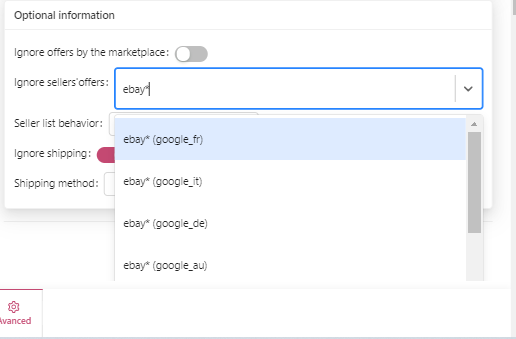 To search on a specific marketplace you can type the marketplace you want to search on before typing the name of your competitor.
For example :
To search on Google FR, type : google_fr: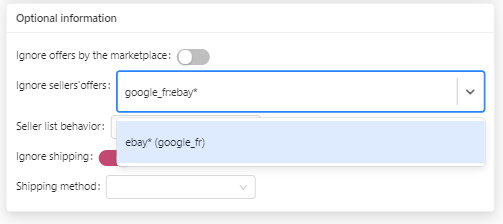 To search on Amazon DE, competitor begining with a Z, type : amazon_de:z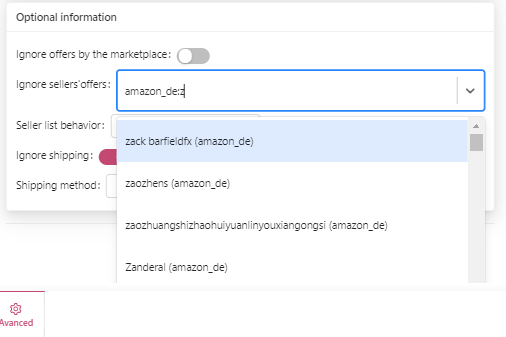 To exclude all the seller name from a specific vendor you can use the * symbol
For example :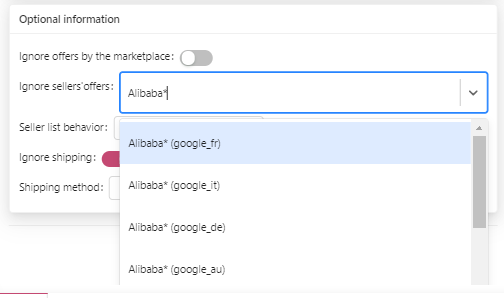 Related Articles

Repricing

Once your configuration is ready, you will have to activate the repricing in order to export the calculated prices on your site and on the different marketplace.* Channels You will find the logo of the different marketplace you subscribed for the ...

Quick Start - Activate repricing

Your Onboarding is now completed. You are about to be Live. The last step is to activate the repricing in order to save the price we calculated. Contact us To do that, you just have to contact us at help.pricing@boostmyshop.com. We will send you an ...

Exclude products from being repriced

Exclude poducts with rules To exclude products from repricing, go to Strategies > Rules and : - Create a new "Include / Exclude products" rules by clicking on the "+" button - Add a condition in order to identify the product - In this example, we ...

CARL - Description

CARL - Description 1/ Catalogue import - fields mapping - Catalogue update a ) Catalogue Import For a Carl account, the catalogue import is done through this page by selecting a csv file the first column/field title needs to be sku (do not use ...

How to set up the Rakuten marketplace access

This article will cover how to create your Rakuten access for Smart Price 1. Connect to your Rakuten account by heading to https://fr.shopping.rakuten.com/connect?action=login&c=80 2. Head to the Tokens menu 3. Copy your Connection Token 4. Send the ...