Exclude products from being repriced
Exclude poducts with rules

To exclude products from repricing, go to Strategies > Rules and :
- Create a new "Include / Exclude products" rules by clicking on the "+" button

- Add a condition in order to identify the product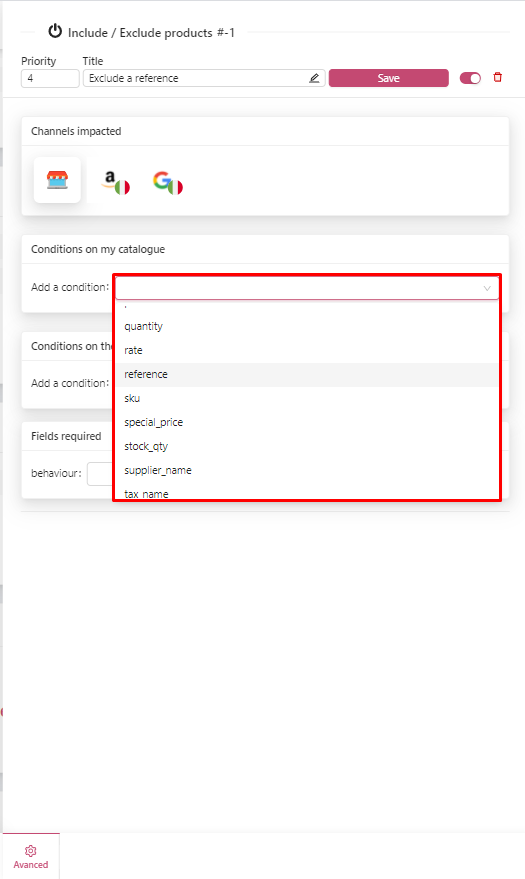 - In this example, we will take the reference to identify the product and now specify all the reference you want to exclude.


To specify multiple values :
- separate the values by coma
- No space after or before coma

- Select the behavior, in this case select "Excluded" and "Save"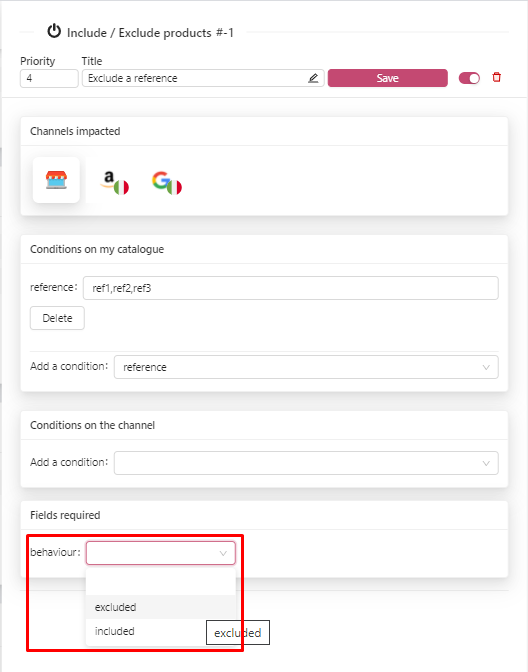 Related Articles

Exclude competitors from repricing

You can exclude certain competitors from repricing so that you don't adjust to them. You might want to do this for several reasons, an example would be that some of your competitors are pricing too low and therefore too competitive. To do that, you ...

Catalog Import

Informations about your products In this part you will find global overview on your products. Identified products: The number of products that we retrieve from your Product Catalog Active products: The number of products indicated in your product ...

CARL - Manual matching

1. Connect to your CARL account http://bms-performance.com/ 2. Go to "Products matching" menu http://bms-performance.com/dashboard#/page/matching/list 3. Find the poduct you want to associate and click on it 4. Click on the magnifying glass 5. Fill ...

Quick Start - Verify your prices

The prices are calculated with the data we collect from your CMS and with the rules defining your strategy. Channel Dashboard The dashboard gives you a quick overview on your products pricing. See how many products can obtain the first place with our ...

How to set up the RueDuCommerce marketplace access

In order to activate your Smart Price account for RueDuCommerce, there is a manual procedure via an email to the RueDuCommerce support team, here is the model to request to RueDuCommerce. Once the file is received, you will be able to associate your ...