How to renew myExtension License / Support
Access to new extension releases and support requires to have a valid extension license.

Then select tab "My Licenses" on the left to see all your licenses: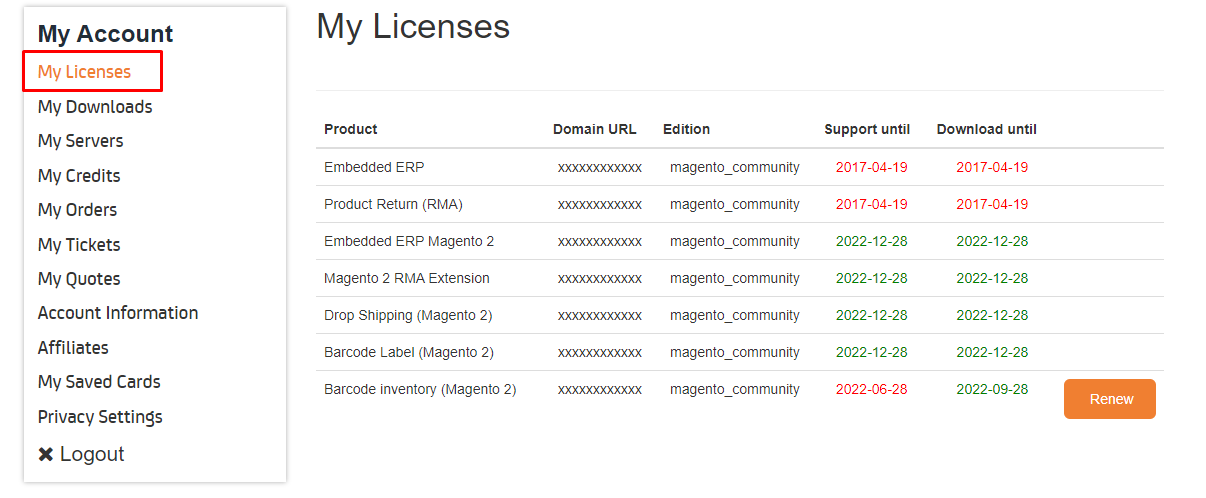 If a license is experide, the "Renew" button is available on the right.

In the next screen, you can select for each expired license which one you want to renew, and also select the renewal period: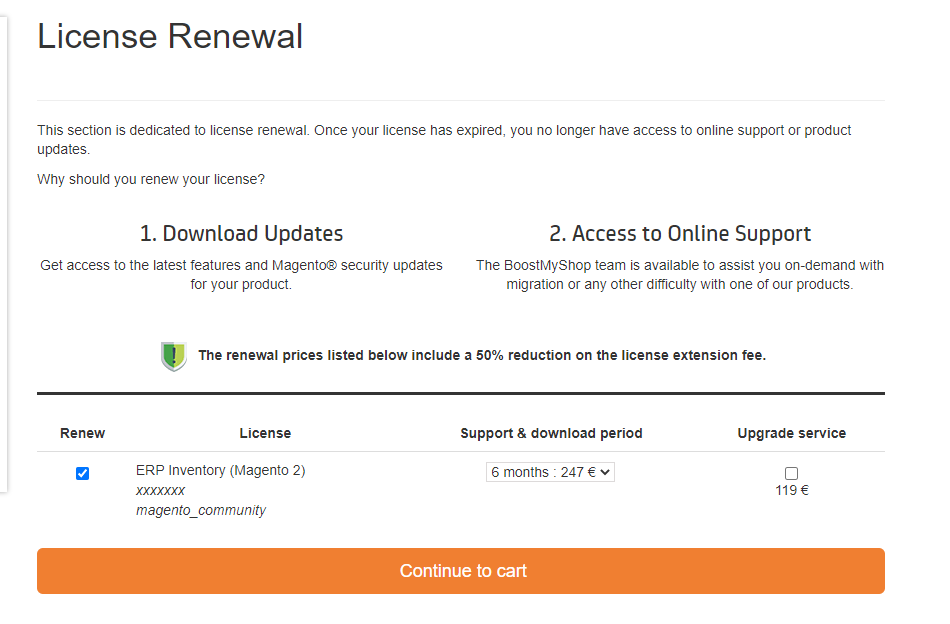 Configure your renewing and click on button "Continue to cart", you could then complete the checkout process to apply the renewal.

Related Articles

Overview

1. Overview Warning From Magento version 2.3, Magento Multi-Sources Inventory modules are installed and enabled. Our Embedded ERP modules are not compatible with these modules. To make it work correctly, you will need to disable them all, ...

Overview

Warning At the moment, POS for Magento 2 only manage Simple, Virtual and Configurable products. Note Catalog and Cart price rules are managed by POS 1. Overview Point of Sales extension for Magento 2 integrates a complete Point Of Sales system in ...

Overview

1. Overview Procurement for Magento2 provides every tools to manage suppliers and purchase orders : Manage suppliers Manage supplier products, with buying prices, supplier sku… (supports multiple supplier for one single sku) Supply needs support : ...

Configuration

3. Configuration POS configuration General These settings will define the global rules of POS. Option Description Barcode attribute Products barcode attribute Disable sounds Disable sound when a product is added to POS checkout screen Authorize the ...

Checkout

4. Checkout The POS interface is available via menu sales > Point Of Sales > Checkout. You are directly redirected to the screen to place a new order User and store switcher POS supports Magento multiple store and users : when you create a new order, ...