What does "Action needed" in status mean?
'Action needed' allows you to identify error or fixes that have to be changed for the application to run as expected. Select the section that need update, and click on "Fix it"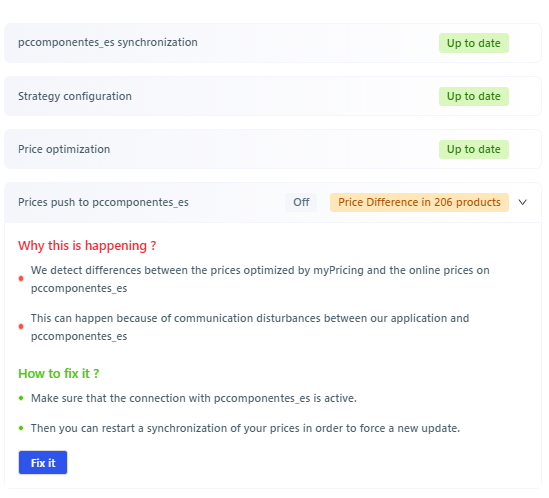 Related Articles

How to correct a required action?

Each global application status has the status " what's happening" and " how to fix it" explanation that enables you to perform required action.

How to take action on my offers in competitions?

You want to modify the competitive offers or you want to see all the offers in competition? If you wish to have a view of all the products in competition we can configure a report that you can download with all your competitive positioning. If you ...

Configuration and Account features

How do I add a new marketplace to my account? Currently, we are supporting one specific marketplace. If you're present on multi-channels, you can disconnect from one channel and connect the other using the same myPricing credentials. myPricing ...

Importation of catalog

Once the channel is connected, the next step is the importation of your product catalog. Catalog importation through channel : We will import your catalog products available in the connected channel. As the products are being imported, our ...

Billing

You can manage the payment and invoicing part from My account > Billing. Payment status This part gives you a quick overview of the invoicing and payment part. You will find the following information there: - Date of last payment - Last invoice ...