What is the health of my shop shows?
Channel Health predicts with the smart intelligence of your catalog to work on certain section in relation to your competitive environment.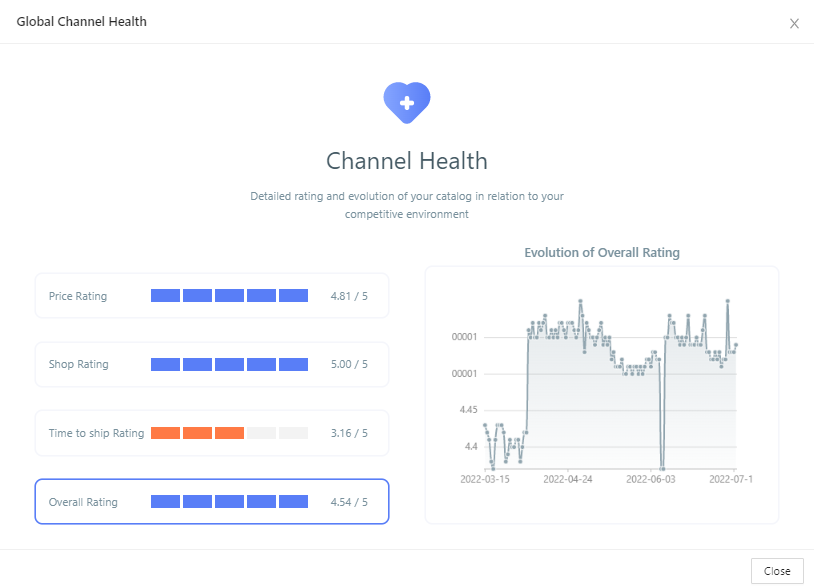 Related Articles

Configuration and Account features

How do I add a new marketplace to my account? Currently, we are supporting one specific marketplace. If you're present on multi-channels, you can disconnect from one channel and connect the other using the same myPricing credentials. myPricing ...

API access procedure

This documentation provides step-by-step instructions on how to obtain your Shop ID from specific channels for myPricing V3. FNAC Shop ID Activation Guide The Shop ID is a unique identifier assigned to each shop within the FNAC network and is ...

Can I know if I am in the best position compared to my competitors ?

myPricing predicts the buy-box winning for your catalog through two factors i) Competition ratio shows current position against your competitors ii) Price trophy predicts the buy box winning possibility and the section to ...

What is myPricing V3?

We are excited to announce Boostmyshop myPricing V3, an efficient solution to boost sales across marketplaces and optimize business performance. It is designed to easily integrate with a wide range of ecommerce sales channels/marketplaces. These are ...

What is Oauth Mirakl ?

Oauth Mirakl allows you to connect myPricing with your Mirakl account for one specific channel or marketplace to import your product catalog and update price information. Select the channel that you wish to connect with myPricing account. Note : ...