How do I reset my reference prices?
It is possible to completely reset your reference prices.
To do this, go to your application settings, Pricing tab and click on the reset reference prices button.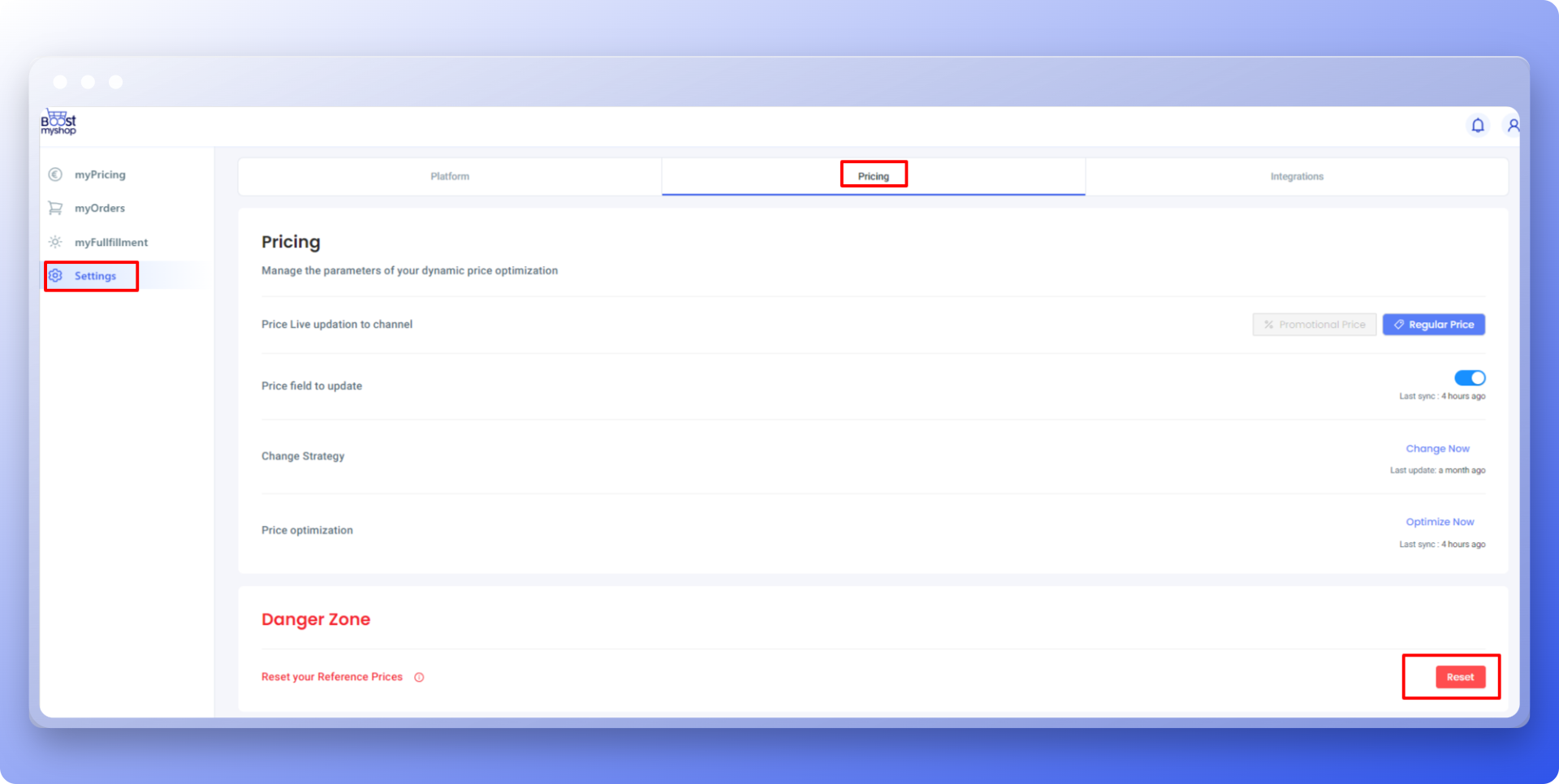 This action will result in :
- The complete deletion of the reference prices for all your products.
- A complete new import of your catalogue and registration of a new reference price for each product. The new reference price will be the price you currently charge online
- A complete recalculation of your minimum and maximum price limits


Related Articles

What is a reference price?

The reference price is a price associated with a product. This price is fixed, i.e. from the moment it is assigned to a product, it will no longer be updated. This reference price is very important because it is used by the "reference price" ...

How to define my minimum and maximum prices through the general strategy ?

The definition of an overall strategy is mandatory. This strategy will define the minimum and maximum default prices that will be applied to each of your products. Accessing the configuration screen You can set or change this strategy via your ...

Why minimum and maximum prices are very important ?

In order to automatically adjust your prices according to your competitors, you need to define a minimum and a maximum price. These two price limits help our robot to know : - At what minimum price you agree to sell your product - At what maximum ...

How to define my minimum and maximum prices through file import (Bulk) ?

It is possible to define your minimum and maximum prices through file import. This feature gives you the power to define the information needed to define your price optimisation strategy in bulk. To find out more about importing a file and the ...

Pricing

By going to the Settings > Pricing section, you can manage the settings for your dynamic price optimization. Price field to update Choose how the new price we send on this sales channel will appear: Promotional price If the sales channel allows it, ...